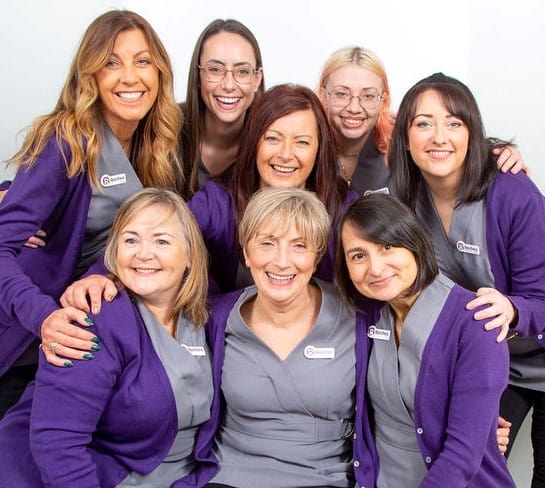 For almost 40 years, Roches has been helping those experiencing changes to their appearance due to alopecia, cancer treatment and surgeries.
Roches is a specialist wig shop and breast care shop based in Dublin. Each wig product & wig service offered in our Dublin store was developed from listening to our client's needs. We provide premium hair & wig services throughout Ireland as we provide online and in store appointments in our Dublin wig shop. Roches specialised hair loss team care for those experiencing partial hair loss or total hair loss often caused by Alopecia or Chemotherapy, cold cap scalp & hair concerns, and those looking to take better care of their hair by using organic hair colour.
In 2010 we launched Roches Breast Care Department, ideally located downstairs from our Dublin wig shop. Providing complete care to those experiencing changes to their appearance due to breast cancer treatment.
From hair loss to organic hair colour, breast surgery to skin care, Roches are with you every step of the journey and beyond.
Meet our expert hair loss, wig and breast care team in our private consultation rooms in Dublin, on a video consultation, or have us visit your home or hospital. Wherever you are, we can help you look and feel like yourself again, restoring your sense of well being and confidence.
We are here to help you from the start and throughout
Roches hair loss and wig shop in Dublin provides solutions for all scalp & hair loss concerns, such as scalp sensitivity due to cold cap treatment and active hair loss, alopecia and medical hair loss. Our breast care services are available before, during and long after all types of breast surgeries, along with those experiencing natural asymmetry. 
Our Dublin wig shop and breast care shop are located in the same building, providing a one stop shop for all your cancer care needs.
When investing in your new hair piece, wig, mastectomy wear or skincare, you want to be confident in the quality, fit, and ingredients. To ensure you get nothing but the best, our shop in Dublin stocks products from world leading wig, breast care and skincare brands
Let us Introduce Ourselves
Roches began as a small family run hair and beauty salon that changed direction in 1986 due to a cancer diagnosis. Almost 40 years later, those personal experiences, industry knowledge and passion bring you our fabulous, professional, kind & understanding team.
Roches provided me with a professional, knowledgeable, experienced & extremely empathetic service. I arrived feeling anxious, fearful & sad. I left feeling strong, confident & looking forward without the same apprehension that I had carried. I'm looking forward to getting my new products & feeling nurtured & reassured whilst wearing them. Thank you.
Patricia and the team are amazing, I never thought I would get a head shave but there is a first time for everything! and as someone who wasn't thinking of wearing the wig initially I love it. Everything from the head shave, the wig trim, the styling, the chat, and being able to donate my hair which was really important for me, I went out feeling amazing and am wearing the wig today because Patricia made it so easy, how to care for it, things to watch out for along the way, tips etc .I feel confident I can do it now thanks to her. Thank you so so much for making something so daunting so manageable and a lovely experience.
My experience in Roches yesterday was extremely positive. As always Sam was highly professional and competent in conducting the fitting. She is very perceptive and sensitive in her personal interactions.....traits that are so important when dealing with clients in this situation. I would also like to complement the attention and professional service received at reception. I would highly recommend Roches to other clients
I really appreciate everything Patricia does for me every time I need to get new hair pieces, she is always so helpful and knows exactly what I like and what suits me. I am never rushed into making my choices. I always feel so comfortable in Roche's, I have hair loss so have been attending here for many years and I have always left with the feeling of being well looked after and very happy with my purchases. Would highly recommend everyone here.
This was my first visit since my hair started to grow back post chemotherapy. I met Katy again who gave my hair a little trim and some advice on how to care for it over the next few months. It was lovely to feel so normal again AND with my new look!!! I originally opted for a gorgeous wig that gave me that confidence and boost we so need when you're starting out with treatment etc and Katy was wonderful, it's like she was reading my mind! From the second you walk in the door there's a sense of ambience, calm and support. Thank you ladies ☺️
Paula is such an amazing lady, gentle and kind. Has been so helpful and made sure all the products I needed were sourced for me. She is great at what she does. Thanks so much for everything.