The easy way to keep your nails healthy, especially when going through Cancer Treatment is to do these simple steps each week.
.
It's not only good for your nails, but it's relaxing and will help clear your mind, even if it's just for those 10 minutes.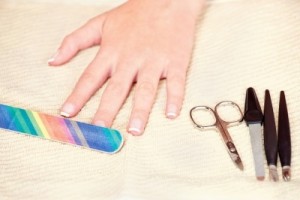 The items you need:
Nail Brush
Nail File
Chemical Free Nail Varnish
Let's start…
Wash hands using nail brush around nail and cuticle

Cut and file your nails with disposable emery board

Massage nail oil into your hands by rotating your thumb and forefinger down each finger away from your body, gently pushing the cuticle back on finger with a wooden nail pusher

Find your anti-stress point and take 3 deep breaths

Bend your fingers and thumb back

Finally place your thumb in the middle of your hand and hold for three breaths

Use nail varnish and remover that is chemical free
The beauty and skincare products that we use in Roches are organic and very gentle on your system. Because of the nature of our business, we work with the best natural products you can find!
Our cosmetics include Jane Iredale, EO Ireland, Jennifer Young and Organic Skincare Systems.
Or make an appointment with us and let us do it for you!
If you want to make an appointment with us for a manicure, or any beauty treatment that we have on offer, call us on 01 492 6829 or email info@roches.ie.
Signup for our newsletter and keep up-to-date with what's happening with Roches.

SaveSave