For people who have lost their hair due to Chemotherapy or Alopecia, it is very important to choose the right material to wear for your head.
Consider these types of material for your headwear:
Bamboo, Cotton, Polycotton, Towelling, Milk Fibres, Viscose… Which one is for you?
With a range of different fabrics available in our hat range, we would encourage you to try them on and see what is comfortable for you. Each fabric type has its own benefits so you can choose which suits your needs.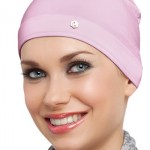 The majority of the hats that we stock are either bamboo or cotton, or a mix of both.
Bamboo is a natural fibre. Its breathability ensures that it is soft and comfortable at all times and it has theunique benefit of being moisture transportable. This will keep your head warm and dry at all times but not too hot. It is an ideal fabric choice for any hat but particularly for a sleep hat as it won't irritate your head while lying on it.
Cotton is a naturally soft and breathable material. It's absorbent but holds its shape well and won't cling to your head. A cotton range of hats with inbuilt SPF 50+ protection for the summer and a range of swim caps of quick drying nylon.
We highly recommend calling into Roches and trying on our wide range of headwear, wigs and headscarves to find something that suits you and your needs.
For anyone going through Cancer treatment, Roches hosts a monthly event in each of their branches in Dublin City, Arklow and Drogheda. These events are called the Positive Appearance Workshop, where our wig experts talk about wigs and headwear, they give their best skincare and cosmetic advice, and offer moral support to anyone going through this difficult time. Find out the next PAW event near you by calling 01 492 6829.
To discover more great tips and tricks for headwear, and the best options that are available for people suffering medical hair loss, download our new eBook – Roches Headwear and How to Style.