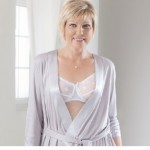 If you've had reconstruction surgery or a lumpectomy and find after your surgery that you're still a little uneven, there are products available to give you a smoother look.
At Roches, we specialize in Breast Care and reconstruction & lumpectomy Breast Forms as we offer Mastectomy lingerie and swimwear. We also offer organic, safe skincare and cosmetics for people going through Cancer treatment, and need a pick me up for sore or delicate skin.
.
Below are our 3 favourite breast forms that we have available in our Roches branches


Secrets
These are great for giving your own breast a lift, if needed, to create an even cleavage.
.


Foam Bust Cups

These are great to even out lumps and bumps post reconstruction so that you can still wear your fitted tops and dresses.

.
Silicone Bust Shapes
These are create an even shape, and are waterproof so can be worn when in the pool or at the beach.
DID YOU KNOW? If you have a protruding nipple, there are nipples that can attach to either your own breast or prosthesis.
We currently have an amazing Mastectomy Swimwear sale on in our Kimmage Road and Merrion Gates branch. Sale runs for this week only and we have gorgeous swimwear styles like the bikini, swimsuit and tankini. Get more information HERE.
If you or you know someone who is going through Chemotherapy, signup for our Positive Appearance Workshop that takes place each month in our 5 Roches Branches.